Ten Free tickets available to pre-approved guests only!
Thanks to the generous sponsorship of the Howard County Tech Council, we have 10 scholarship tickets set aside for parent-daughter pairs who can document Howard County residency and low-income status (ie FARMS eligible, resident of low-income housing facility, etc). To apply for these tickets, or to recommend an agency who can identify candidates for these tickets, pls email ggs@thegreatadventurelab.com. Include as much info as possible!
You are invited to the Great Adventure Lab's
Girls Get Science evening event
6:00-8:00 pm on Saturday, October 11th, at Northfield Elementary School,
Ellicott City, Maryland.
Please join us. It is absolutely inspiring to see girls laughing and having fun while learning about science and engineering from women scientists and engineers, in an all-girls environment!
This event features a speaker panel, a chance to meet the speakers and a choice of hands-on science workshops for girls grades K-5. Workshop choices will include Lego Engineers, Lego Robotics, Video Game Programming, Mindstorms and Young Engineers.
SCROLL DOWN to see speaker bios!
All workshops will be led by our enthusiastic and talented instructors.
Event format. While girls in grades K-5 are participating in hands-on activities, our panel of women scientists and engineers will speak with parents about the experience of being a girl or young woman pursuing a career in science or engineering.

After the panel, the girls will rejoin their parents and have a chance to meet with our panelists to learn more about what these women do for a living!
Here's a slideshow of a past GGS event.
---
Our speakers
Pamela "Pan" Conrad, Astrobiologist, NASA.
Dr. Conrad studies rocks on other planets for signs of former life! She is the deputy principal investigator for the science lab that landed on Mars thanks to its 'ride' the Curiosity rover! The lab, called SAM (aka "Sample Analysis at Mars.") is beaming new information to us from the red planet. Dr. Conrad loves to bring props to show and is really looking forward to sharing SAM's findings with the girls.
As a geologist, Dr. Conrad has voyaged to some of the most extreme climates on earth, including Antarctica. In addition to speaking at conferences all over the world, Dr. Conrad, an avid scuba diver, appeared in Aliens of the Deep, by James Cameron, director of Titanic. She has a Master's in Philosophy and Geology and a PhD in Geochemistry and Mineralogy. Oh. And she's a former opera singer and television producer.
---
Sabrina Thompson, Flight Safety Engineer, NASA Goddard
Sabrina Thompson didn't listen to her physics teacher when he told her she shouldn't study mechanical engineering because it would be too hard for her. Now she has a degree as an aerospace engineer and works as a flight safety expert at NASA.
She encourages the next generation to pursue their dreams and refuse to settle for anything less than they are capable of achieving, just as many of those around her refused to let her settle. "They pushed me to limits I thought I could never cross and I am forever thankful," she says. See her story.
---
Dr. Jennifer Scott: Astronomist, Towson University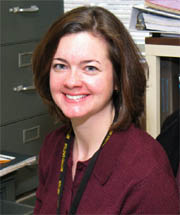 Dr. Scott studies materials that flow out of active galaxies (the ones with bright centers, believed to be caused by black holes). She gets here data from telescopes all over world and of course, from the Hubble telescope in space. She was inspired to study science after watching Carl Sagan's PBS series Cosmos as a child. You can read more about here on the NASA website.
---
Georgette Alexander-Morrison: Orbital Sciences Corp.
Ms. Alexander-Morrison works to make sure that the satellites in space stay in one piece and on course. She has worked on numerous projects over the years, including: the Hubble Space Telescope, the Far Ultraviolet Spectroscopic Explorer and the Fast Auroral Snapshot Explorer. She has a BS in Materials Science and Engineering from the University of Florida and a MS in Industrial Engineering from the University of Tennessee.
---
Why are we holding a girls-only science event?
Studies have shown that as early as second grade, many girls are deciding that math is not for them, which certainly doesn't bode well for their views on engineering and the sciences! We hope that by reaching out to girls and their parents through events like these, we can help convince girls in our community that science is for everyone.

Registration for this event is $30 per parent/daughter pair and $15.00 for each additional participant ($10 extra for additional parent).
Sign up for 10 or more - and each parent-daughter pair pays just $25.
Please choose two mini workshops when you register. We are offering workshops based on grade level: Lego Engineers (grades K-1), LEGO Robotics (grades 2-4), Mindstorms (4-5), Video Game Programming (Grades 3-5), and Young Engineers grades (K-1 and 2-3.)
Note: you are encouraged to arrive no later than 5:45 pm to check in.
---
The Great Adventure Lab proudly sponsors Girls Get Science events as part of our ongoing mission to get more children, especially girls, excited about science and engineering at an early age.
We offer after school enrichment classes and summer camps in LEGO robotics, engineering, computer animation, electronics, crime science … and more! We've taught more than 4,000 kids to write their first programs since we first started serving the DC area in fall of 2010. We currently offer classes in Montgomery, Prince George's and Howard Counties in Maryland; the District; and Fairfax County in VA. If we're not already at your school, invite us!
We support our communities by donating money back to our PTA partners offering at-cost classes to residents of low-income housing projects managed by Montgomery Housing Partnership. We were founded in fall 2010 by a Silver Spring mother of two young children. We have the smartest, most fun instructors in metro DC, and possibly the world!
Our management team is made up of four parents of elementary-age children plus a stay-at-home dad of a new baby boy! We are genuinely passionate about inspiring the next generation to explore science and engineering before someone else convinces them these fields are 'boring.' We believe in FUN first, learning through hands-on activities for every kid, every time, SMALL class sizes, enthusiastic instructors, informative notes home after EACH class; and excellent customer service, whether you are a kid, a parent, or an after-school activity coordinator. We put people before profits.
For more information about our classes, camps or birthday parties, or to see bios of our instructors, please visit our website at www.thegreatadventurelab.com. You can also find us on Facebook, Twitter, Flickr and YouTube under the name The Great Adventure Lab or @awrobots.

We look forward to seeing you at Girls Get Science!!
---
Need help with registration? help@thegreatadventurelab.com
Questions about the event itself? Contact our Events Director, Laura Wilhelm, at ggs@thegreatadventurelab.com